In the first few days, I was way too involved with looking and snapping photos to consider restaurant eating an viable option. Instead, I was gripped with the traveler's compulsion to see MORE MORE MORE and sitting in one place for more than half an hour wasn't going to accomplish that goal. My stomach growled and Istanbul replied with an army of food carts on the corner of every mosque, which for a city that has a mosque a minute, is quite a few. The ubquitious grilled corn and seasame encrusted bread rings didn't entice me since I'd been spoiled by the Mexican corn at Maxwell street slathered in butter and spices. The Turkish corn just looked so forlorn and barren compared to the calorie nightmare I usually enjoy.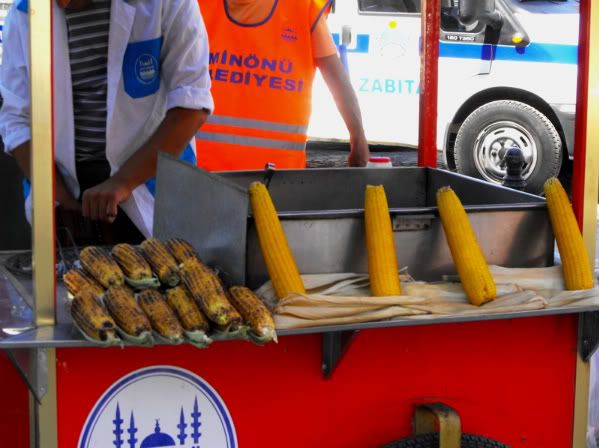 I followed the tram tracks out of Sultanahmet and, either by sheer force of will or by the gravity of a downward decline, the Bosphorous pulled me towards the Galata bridge, an activity that was high on the "To Do In Istanbul" list. All the reading I had done about the fish markets near Galata bridge mentioned the fish sandwiches. What they didn't mention was the high pressure salesmanship that made buying a sandwich like wandering through a used-car lot with hundred dollar bills sticking out my pockets.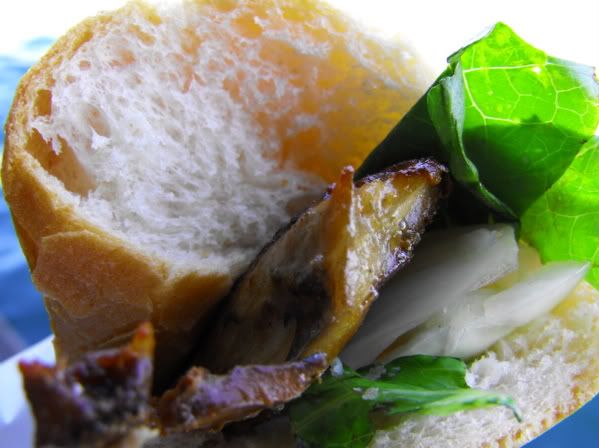 I guess the difference between the locals and the visitors is that the tourists fall prey to the highly aggressive waiters while the locals fish for their own damn fish sandwiches. While the balik ekmek was satisfying, it was almost too simple in its combination of bread, greens, onions and grilled fish. I kept craving some sort of creamy or lemony counterpart.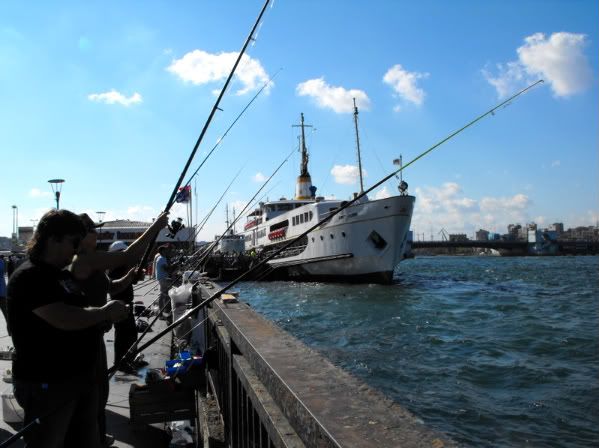 Nevertheless, I enjoyed my balik ekmek and imagined that not only twelve hours earlier, that fish was probably enjoying a nice swim in the Sea of Marmara. While the Galata bridge isn't the prettiest bridge in the world, it does house an entire strip of restaurants in its belly, which makes for an interesting, if stressful walk.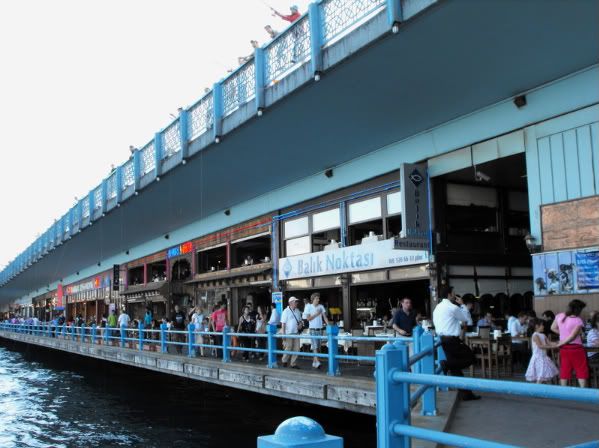 My second sandwich was in the Beyoglu district right off İstiklal Caddesi, in the most elegant "fish market" I've ever seen, the Balık Pazarı. Maybe many years ago, Balık Pazarı was a smelly, noisy fish market, but what I encountered were table-clothed restaurants, elegant indoor malls and another tasty sandwich encounter: the fried mussel sandwich.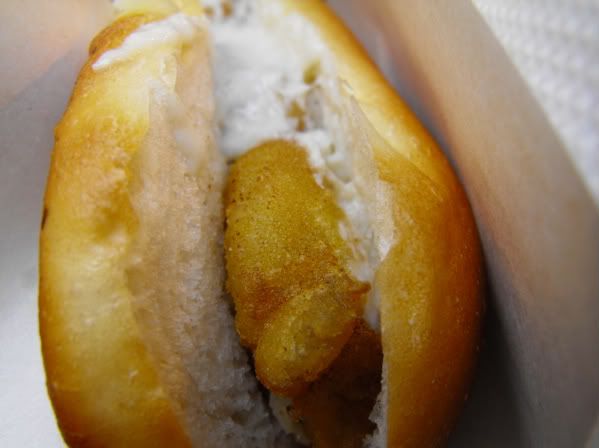 Instead of loading up on bread, this 2.5 YTL sandwich had nicely seasoned, freshly fried mussels with the perfect cream sauce. Standing next to us, there was a woman steadily making a formidable pile of mussel shells. The stuffed mussels were selling for 0.50 YTL and with her large Russian looking boyfriend paying, girlfriend was making a killing in shells.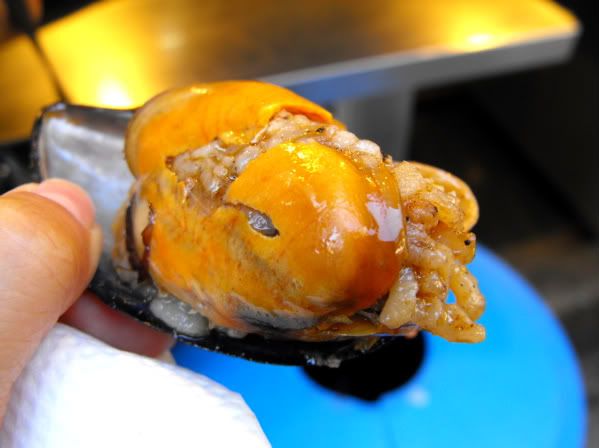 When I hit the Egyptian Market, or the Spice Market in Eminönü, I discovered Turkish pizza, or pide.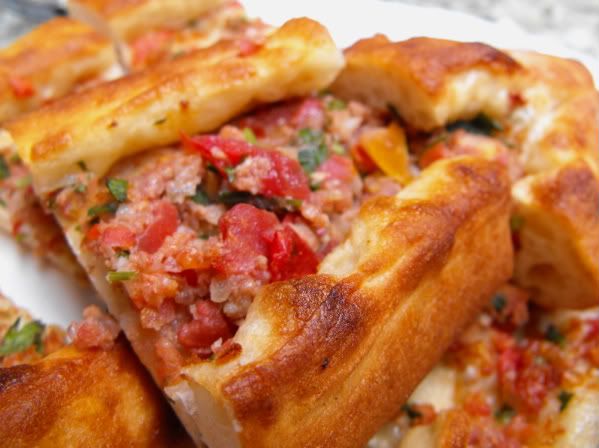 While you could get pide with cheese, I love the version I kept ordering over and over again—a mixture of crumbled lamb, tomatoes, and herbs. I didn't think I could find New Haven style pizza in the middle of Istanbul, but this tasted alarmingly similar to my best experiences at Piece.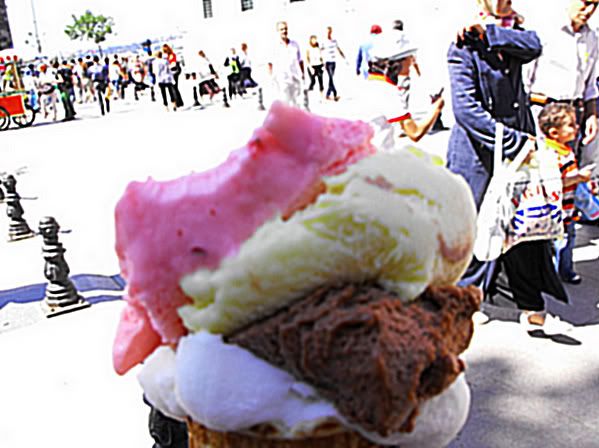 Walking around the bazaar afterward, I kept noticing the flippy tricks the dondurma (ice cream) man was doing with his spatula. Turkish ice cream is made with goat's milk, thickened with salep and stuck firmly to just about anything. After being easily upsold to five scoops of dondurma, I decided that chewy ice cream wasn't really my thing. While the chewiness of the ice cream was novel, salep gave had a weird after taste and didn't win any flavor points with me.
I did manage to eat full restaurant meals in Istanbul, but it wasn't until Joanne, Susie, and Crystal arrived that I finally abandoned my itinerant eating, more on that later.