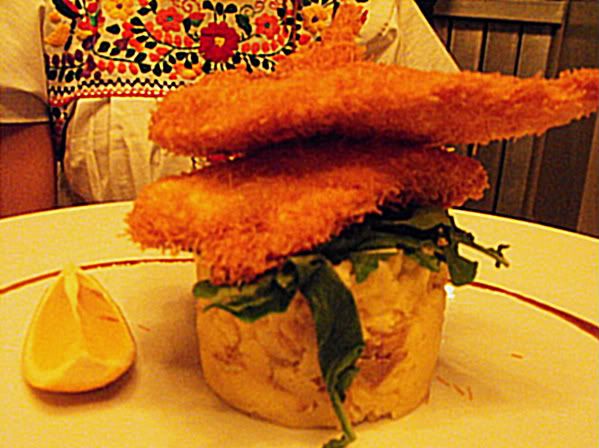 "The kebabs, you've got the try the kebabs," every guidebook intoned religiously if going to Istanbul without eating skewered meat would be like missing the Aya Sofya (Hagia Sophia). Well, three of the friends who came with me to Istanbul DID miss Aya Sofya, but their alert tongues also caught a relatively obscure culinary fact, that wiener schnitzel was plentiful and delicious in Istanbul. In this land of figs and lamb, how is it that fried meat cutlets fit in with the local cuisine?. Manuela Honsig-Erlenburg of Austria helpfully supplies that:
While many of the classic Viennese dishes stem 'at least' from former Austrian territories, i.e. Hungary, the traditional 'Wiener Schnitzel' has its roots not in Italy – that would be just about bearable – but Istanbul of all places…The more prosperous residents of what used to be Constantinople garnished their food with gold leaf. Those who couldn't afford this luxury used golden bread crumbs instead. This was the birth of the crumb-coated escalope; right in the middle of today's Istanbul."
Maybe because my sense of humor is stuck at the Freudian anal stage, but reports of the wealthy eating gold makes me wonder about their poo and their ability to distinguish flavor from excess. The plebes clearly won the culinary war on the schnitzel. One can discern from the photo, that the artfully stacked schnitzel is from the kind of urban trendy restaurant that wouldn't be out of place in Greenwich Village. If anyone wants that feel of modern Istanbul, visit The House Cafe. There will be more substantive Turkey postings to follow.