Don't get me wrong, along with millions of people, I think Valentine's day is a crock; but that doesn't mean you can't get a good meal out of it. Unfortunately, I think I might have overdone it this year. We headed to Zocalo since J like it so much when we went for my birthday. For a true hedonist experience, we just decided unleash the belt and let the chewing do the talking. While this eventually led to a staggering entrance into the cab, I think we had fun even if dyspepsia had to be part of "forced romance."
Sopa de Tortilla - A rich vegetable broth flavored with pasilla chile and epazote; garnished with tortilla strips, avocado, cotija cheese and sour cream.
A version of this exists at Adobo, and unless Zocalo is using expired pasilla chiles, this soup should have been more peppery and smoky.
Flautas Estilo D.F. - Four crispy taquitos filled with pulled chicken in tomato-chipotle sauce and served over a tomatillo salsa; garnished with lettuce, pickled red onions, fresco cheese and sour cream.
Out of everything we ordered, the flautas are still my favorite because of the tender chicken and the chiptole sauce is just acidic enough to make the flavors interesting. I couldn't identify the pickled red onions until I read the menu again, but it is one of the best new condiments I've tasted, tarty and sweet. It will be next in my arsenal of pickle-ry
Tradicional, Rojo (with roasted tomatoes), Fruta (with papaya)
People make a big deal out of the table-side guacamole presentation, but I really don't get why, it's just a cheap gimmick to get you to pay $5 more for the green stuff. While Zocalo didn't try to pull this joke here, I was disappointed, the plantain chips were wholesome (would it kill you to spice it a little?) but the guacamole didn't nearly have the range of flavor I would expect in 3 SEPARATE presentations.
Tacos de Cazuela: Barbacoa - slowly braised guajillo chile marinated beef, Cochinita Pibil - slowly braised pork marinated in chile and Yucatan Spices, Tinga de Pollo - Shredded chicken simmered in a tomato chipotle sauce.
The boyfriend pronounced the Tinga de pollo to be as good as the way Mama makes it back home, which is a very good sign. I liked the Cochinita Pibil the best, but the Asian in me will always prefer the pig. Zocalo serves their tacos with blue-corn tortillas, which is nice aesthetically and flavorful.
Camarones Al Mojo de Ajo - Grilled jumbo shirmp in a zesty garlic butter sauce; served over lime-avocado salsa and accompanied with white seasoned rice
I should have gone for one of the moles, but I have a weakness for the sea. This was a solid dish and was tasty all around, it just wasn't "mexican," it tasted like it could come from any restaurant, but I suppose it isn't really a critique. 
What's romance without sugar? Surprisingly, the knockout sugar-good was the flourless chocolate cake by a mile. Then again, flourless chocolate cake, the prom queen of desserts, really has a hard time failing anyone. The flan was a little too firm, almost like an over-jellied panna cotta. (I've made better using Royal ). While J made a hard-line attack at the tres leches cake, I sat and dreamt about the flan at People, which is an creamy explosion in the mouth with perfect caramel sauce.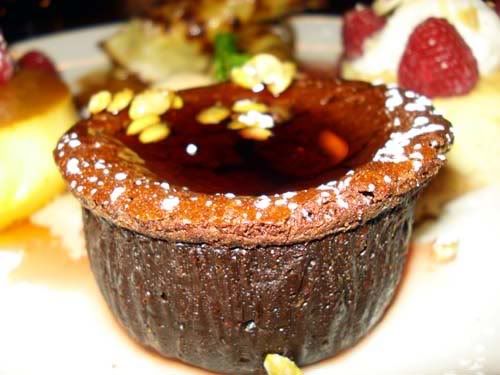 One last look at the epic meal. Adieu, until we eat again.